Hippie vibe helps Bellingham restaurant take crown as state's 'grooviest'
Posted by Aldo LeVain on Monday, February 17, 2020 at 11:33 AM
By Aldo LeVain / February 17, 2020
Comment
Hippie vibe helps Bellingham restaurant take crown as state's 'grooviest'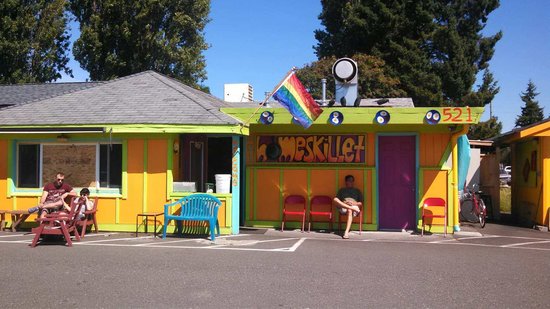 The same website that ranked Bellingham the "Most Hippie Town" in Washington state last year has just proclaimed one of its restaurants the "Grooviest Place to Dine" in the state.
Onlyinyourstate.com, a website that helps readers discover fun things to do in each state, on Tuesday, Feb. 11, published a story heralding Sunnyland neighborhood eatery Homeskillet the state's grooviest.
"Considering the owners of this place, Kirby and Tina (White), met in Antarctica while they were cooking for 1,200 scientists, there's no way this eatery wasn't going to be a bit eccentric," Jessica Wick wrote in the onlyinyourstate.com story.
The vibe of the restaurant, located at 521 Kentucky St., is set by Miss Velveeta Jones, a giant chicken sitting out front that was the product of a dream Tina White had at Burning Man, and the exterior colors that look like they were lifted straight off a hippie's 1960s Volkswagen bus.
The groovy theme is carried inside to the dining room, which Homeskillet's webpage says has room to seat 32, including only two tables capable of seating four patrons. And how could anyone who's ever been in the establishment's main restroom forget all the clowns?
"But as fun as the vibrant colors and hippie atmosphere are, it's the food that draws people to restaurants, and the cuisine here never disappoints," Wick wrote.
Despite having only one cook, a wait staff of two and a kitchen only 100 square feet in size, Homeskillet's website proclaims it serves 150 to 300 meals per day along with 720-plus fried eggs, 750 pounds of potatoes and 600 to 800 cups of coffee per week.
Homeskillet, which opened in 2012 and was featured in 2016 on the Canadian Food Network's "You Gotta Eat Here," serves breakfast all day Tuesdays through Sundays and lunch Tuesdays through Fridays.
Credit/Source:
Rasbach, David. "Hippie vibe helps bellingham restaurant take crown as states 'grooviest'" The Bellingham Herald, 12 Febraury, 2020, https://www.bellinghamherald.com/news/business/article239807818.html.